About Us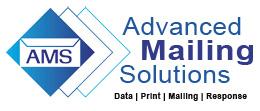 Established in 2002, Advanced Mailing Solutions was formed to provide organisations with high quality direct mail services and products at an affordable price.
Over the years we recognised the importance our customers placed on having a single contact for their mailing projects.  
As a result our service offering has grown well beyond that of a typical mailing house ensuring that our customers enjoy a straightforward experience when undertaking their mailing (and now fulfilment) projects. Exceed our customer's expectations
Despite this continual evolution, our aim now remains as it did then.   Exceed our customer's expectations in every aspect. 
The company continues to remain privately owned by its original owners Nicola Roome and Graeme McCreath giving our customers the added assurance of knowing that their projects will be delivered to the very highest standard of service and quality.
And for us a name is more than an identity, it's a statement of our intent!
We continue to develop, enabling us to provide the most advanced mailing solutions possible in terms of the services we provide and the innovation that we will bring to the market.
Related Information
Get in touch so we can demonstrate our expertise
See more on why AMS can be your perfect partner
Why not check out our excellent level of customer feedback.